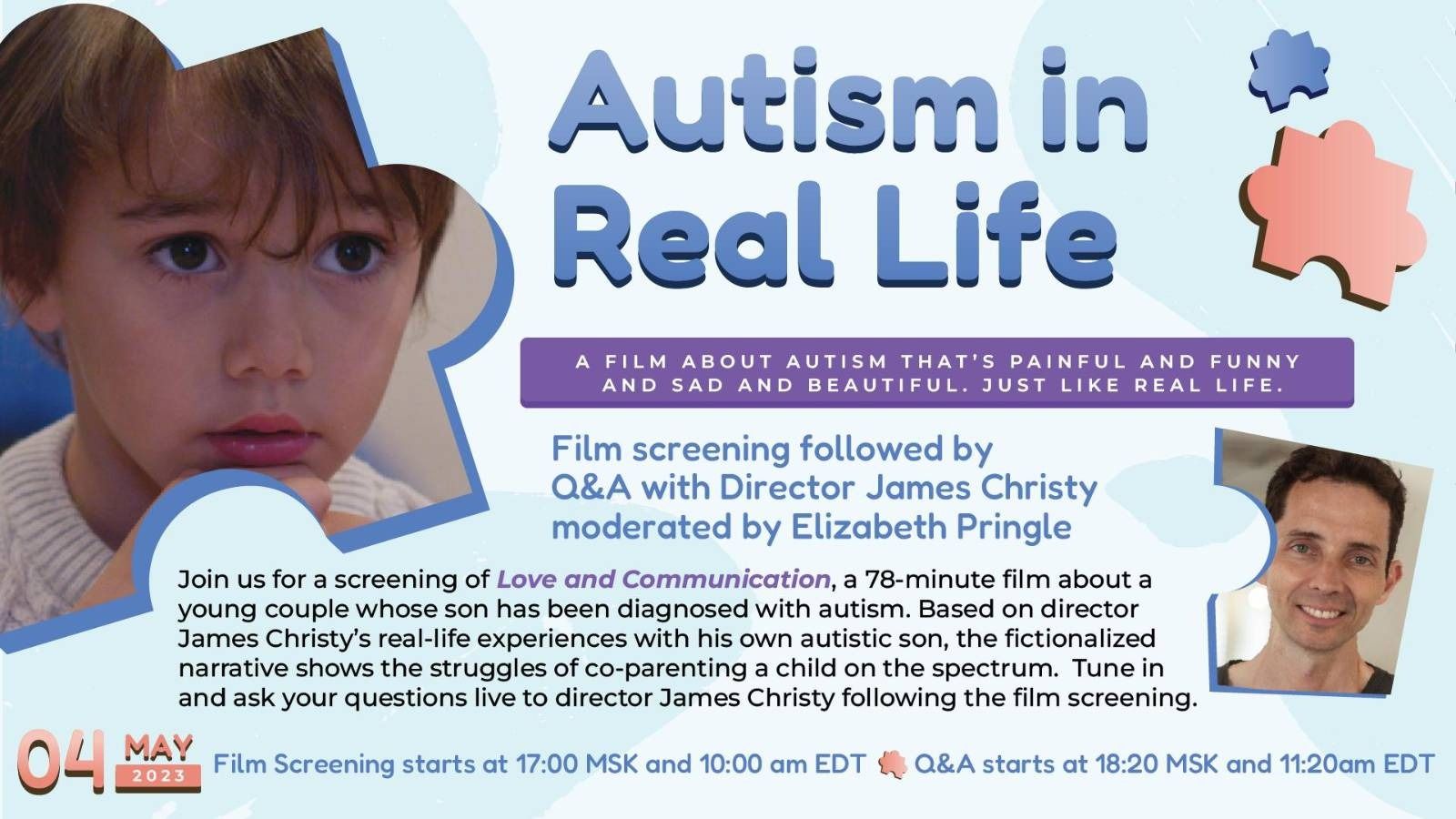 In honor of the U.S. Autism Acceptance Month, which occurs every April and aims to show support, inclusion, and acceptance for those diagnosed with autism, please join us on May 4th at 5:00 p.m. MSK for a free screening of Love and Communication (2022), a 78-minute film about a young couple whose son has been diagnosed with autism. Based on director James Christy's real-life experiences with his own autistic son, the fictionalized narrative shows the struggles of co-parenting a child on the spectrum. 
Tune in and ask your questions live to director James Christy following the film screening. 
Timing:
5:00-6:20 p.m. MSK/10:00 a.m.-11:20 a.m. EDT — Film Screening
6:20-7:20 p.m. MSK/ 11:20 a.m.-12:20 p.m. EDT — Q&A with Director James Christy
Synopsis and trailer
Love and Communication is about the struggles of a young couple whose son has been diagnosed with autism. While they are immersed in a struggle with their school district over their son's education, the strain extends to their marriage. Megan pursues an untested online relationship-based therapy and Rob goes to increasingly desperate measures to get Sammy into a highly regarded school.
About the film director and guest speaker:
James Christy Jr. is an award-winning playwright, filmmaker and novelist. Recent plays include THE FOREVER QUESTION, which won the B Street Comedy Festival in 2018; LOVE AND COMMUNICATION, was part of Playpenn in 2010, won the Brown Martin Barrymore Award in 2012 and will premiere as a feature film in April, 2023. In a previous life he was an actor with a featured part in the film DEAD POETS SOCIETY (yes, he stood on his desk). 
Accessibility
The event is in English with open captions in Russian.
To learn about the film Love and Communication, go to the film's website.
***
ALL AMERICAN CENTER IN MOSCOW EVENTS ARE FREE OF CHARGE / ВСЕ МЕРОПРИЯТИЯ АМЕРИКАНСКОГО ЦЕНТРА В МОСКВЕ БЕСПЛАТНЫ
***
This event will be livestreamed on the American Center in Moscow's YouTube channel, VK group, and Telegram channel.
To receive an email reminder 30 minutes before the online event begins, register below and leave a valid email address.
To join other AMC Online programs, please check the American Center's website and TimePad calendars.