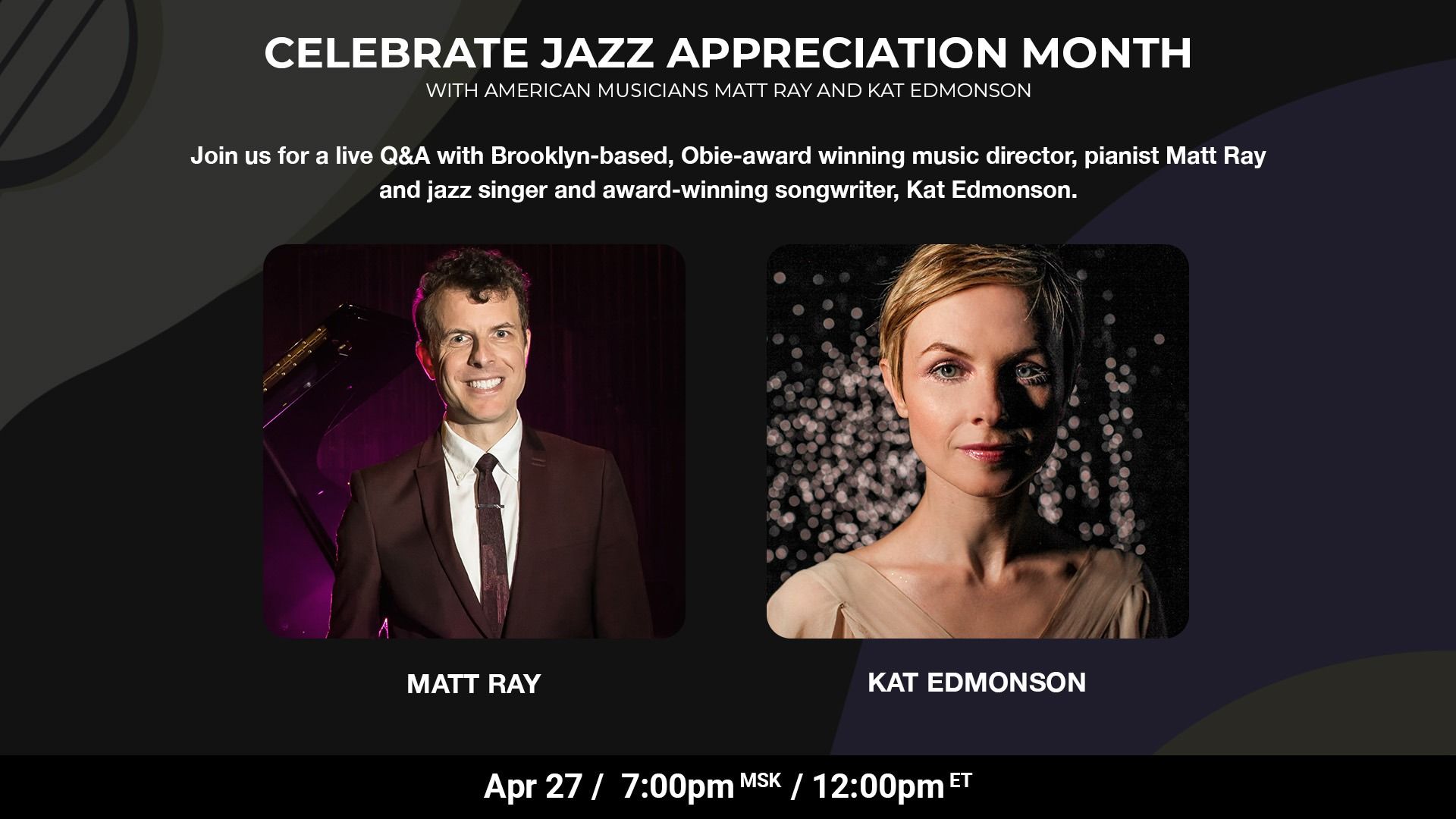 Join us for a live conversation with Brooklyn-based Obie-award winning pianist and songwriter Matt Ray and award-winning songwriter and jazz singer Kat Edmonson, described by NPR as "a savvy student of '60s film soundtracks, jazz-pop stylists and Brill Building and Tin-Pan Alley songcraft," to learn about the pivotal role jazz has played in their lives. Tune in on April 27 at 7:00 p.m. MSK to ask the musicians questions live! 
This event is part of AMC's celebration of Jazz Appreciation Month, a music festival held every April to honor one of America's earliest and iconic art forms. 
About the musicians:
Kat Edmonson — Jazz singer and award-winning songwriter.
Kat Edmonson is "a savvy student of '60s film soundtracks, jazz-pop stylists and Brill Building and TinPan Alley songcraft." (NPR). She has performed on "NPR Tiny Desk Concerts", "Austin City Limits", "A Prairie Home Companion", "The Late Show", and "The Tonight Show". She appeared in Woody Allen's Cafe Society as a 1930s jazz singer and was highlighted on the official soundtrack performing her version of "Mountain Greenery." In 2018 Edmonson joined Lincoln Center's American Songbook series in the show, "Matt Ray Plays Hoagy Carmichael featuring Kat Edmonson." In the winter of 2022, Kat made her theatrical debut in the four-time, Drama-DeskAward-nominated jazz opera "The Hang" by Taylor Mac and Matt Ray. From Carnegie Hall to the Montreux Jazz Festival to the Blue Note in Japan, Edmonson has played major stages across the United States, Europe, and Asia. In addition to her own headline tours, Edmonson has performed in support of Lyle Lovett, Gary Clark, Jr.Smokey Robinson, and Willie Nelson to name a few. Her original songs have been featured in major motion pictures, television shows and commercials including her song "Lucky" which was featured in the Coca-Cola "Footprints" ad from the 2014 Winter Olympics.
Matt Ray is a Brooklyn-based pianist, composer, arranger, singer, songwriter, and music director. His arrangements have been called "wizardly" (Time Out NY) and "ingenious" (NY Times), and his piano playing referred to as "classic, well-oiled swing" (NY Times) and "to cry for" (Ebony). For his work on Taylor Mac's show A 24-Decade History of Popular Music he and Mac shared the 2017 Kennedy Prize for Drama Inspired By American History. Notable live performances include Carnegie Hall with Kat Edmonson, the Hollywood Bowl with reggae legend Burning Spear, the Théâtre de Chaillot with Justin Vivian Bond, and touring the Caribbean and Central America as a US Department of State Jazz Ambassador. His show Matt Ray Plays Hoagy Carmichael featuring Kat Edmonson premiered at Lincoln Center's American Songbook series in 2018. Other work includes music directing Queen Esther's The Billie Holiday Project at the Apollo Theater's Music Café (2012), music directing Taylor Mac's Obie award winning play The Lily's Revenge at the HERE Arts Center (2009), and co-writing songs for and performing in Bridget Everett's one-hour Comedy Central special Gynecological Wonder (2015) as well as Everett's hit show Rock Bottom (2014). Matt has done musical arrangements for a large number of TV shows and films including Nurse Jackie (2014), Blue Night (2018), and the Oscar nominated Can You Ever Forgive Me? (2018).
***
ALL AMERICAN CENTER IN MOSCOW EVENTS ARE FREE OF CHARGE / ВСЕ МЕРОПРИЯТИЯ АМЕРИКАНСКОГО ЦЕНТРА В МОСКВЕ БЕСПЛАТНЫ
***
This event will be livestreamed on the American Center in Moscow's YouTube channel, VK group, and Telegram channel.
To receive an email reminder 30 minutes before the online event begins, register below and leave a valid email address.
To join other AMC Online programs, please check the American Center's website and TimePad calendars.