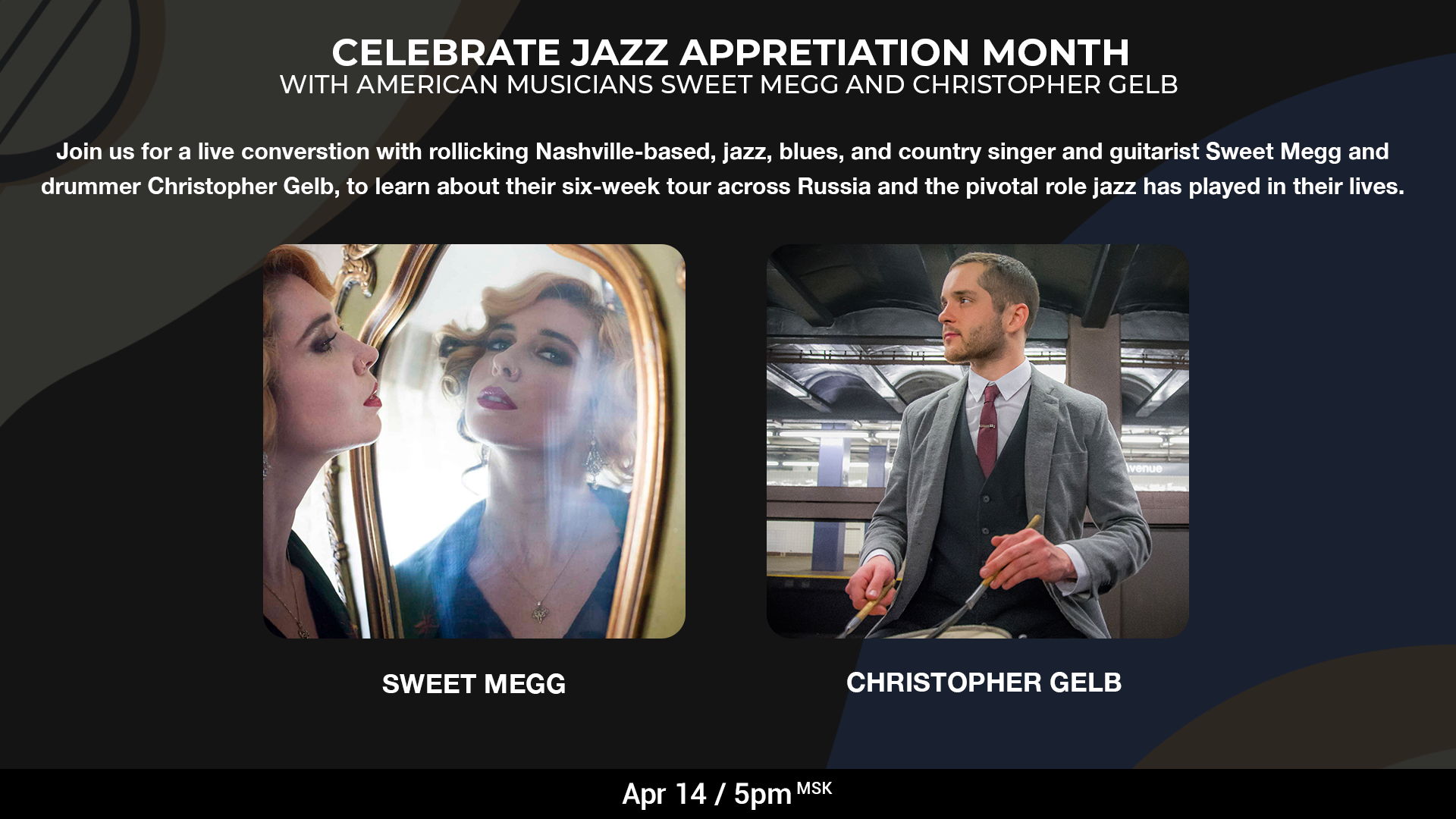 Join us for a live conversation with rollicking Nashville-based, jazz, blues, and country singer and guitarist Sweet Megg and drummer Christopher Gelb, to learn about their six-week tour across Russia and the pivotal role jazz has played in their lives.  Tune in on April 14 at 5:00 p.m. MSK to enjoy a jazz performance and ask the musicians questions live! 
This event is part of AMC's celebration of Jazz Appreciation Month, a music festival held every April to honor one of America's earliest and iconic art forms. 
About the musicians:
Sweet Megg is a local singer down in Nashville, TN originally from New York City. She performs a range of material steeped in the American traditions of jazz, blues, and country. Her vocals reveal a vast variety of influences, ranging from Billie Holiday to Patsy Cline & from Edith Piaf to Karen Dalton. She grew up performing as a songwriter in the East Village and dreaming of being a writer like those of the folk era of the Greenwich Village. After high school she found herself down in North Carolina where she trained as a raft guide and got her first taste of Southern music. The sounds of bluegrass and country intrigued her and she always felt a longing to return once back in the big city. She continued songwriting in college and eventually moved to Paris to study jazz where she began performing around town with local musicians. After college she returned to New York City and fell head first into the early jazz community where she found the excitement of improvisational jazz accompanied by the storytelling of the early blues and country she loved. She flourished in that community and her first formation, Sweet Megg & the Wayfarers, gained popularity and began touring outside of the city. Her tours brought her back to the south where she became more and more curious about country music.
Her first two releases Under the Moonlight (2020 Data Records) & I'm in Love Again (2021 Turtle Bay Records) are steeped in the classic jazz she was playing every night in New York. After I'm in Love Again came out she finally packed up her bags and moved down to Nashville TN. She was able to convince Scott Asen (the chef of Turtle Bay) to do a record that mixed the sound of Nashville with the sound of New York. That was the inspiration behind her next album My Window Faces South (2022 Turtle Bay). She mixed her horn section & piano player from I'm in Love Again with a few of her favorite musicians down in Nashville (Chris Scruggs, Billy Contreras, Chris Gelb, & Dennis Crouch). This set off her vision of what Sweet Megg would sound like going forward. Real Hill Billy Jazz.
Inspired by Bob Wills, she is taking the idea of mixing country and jazz to the next level. "I've been building a sound combining my knowledge and experience in the old-time jazz world of New York with the country music I love and have learned so much about living down in Nashville. Bob Wills loved jazz and I believe his vision was to meld the two genres of his era creating Western swing. I'm just expanding on that idea by not only taking jazz & country ideas from the 30s & 40s but also integrating ideas from the 50s, 60s, 70s, and so on".
The only missing puzzle piece now is to reintroduce her original music to the mix. Her next album Bluer than Blue is in the works and will be released in the fall of 2023. It includes an original by Megg and moving forward she plans to keep writing tunes that hint at the classic sounds of country music while leaving spaces for the freedom and improvisation of jazz.
Chris Gelb is a drummer and percussionist who can be found playing in a wide variety of musical groups in New York, Paris, and Nashville, Tennessee, where he currently resides. Regarded as a sensitive and thoughtful musician, he is quickly becoming a familiar face in the world of early Jazz and Country music.
Soon after moving to New York from his home state of North Carolina in 2014, he discovered the vibrant Traditional Jazz scene, which he immediately fell in love with. Steeped in the language of Jazz, thanks to his musical family and his studies throughout highschool and college, he was prepared to explore the art further; particularly the early style of the 1920s and 1930s. His love of antique drums and instruments, and the unique sounds that accompany them, also fuel his focus on this particular style.
Since moving to Nashville, the sounds of traditional and swinging country music have similarly taken him by storm, and now you can find him in a honkytonk bar playing songs by Bob Wills, Hank Williams, and Patsy Cline, just as you might find him playing the music of Bix, Louis Armstrong, or Jelly Roll Morton, in some speakeasy in New York
***
ALL AMERICAN CENTER IN MOSCOW EVENTS ARE FREE OF CHARGE / ВСЕ МЕРОПРИЯТИЯ АМЕРИКАНСКОГО ЦЕНТРА В МОСКВЕ БЕСПЛАТНЫ
***
This event will be livestreamed on the American Center in Moscow's YouTube channel, VK group, and Telegram channel.
To receive an email reminder 30 minutes before the online event begins, register below and leave a valid email address.
To join other AMC Online programs, please check the American Center's website and TimePad calendars.