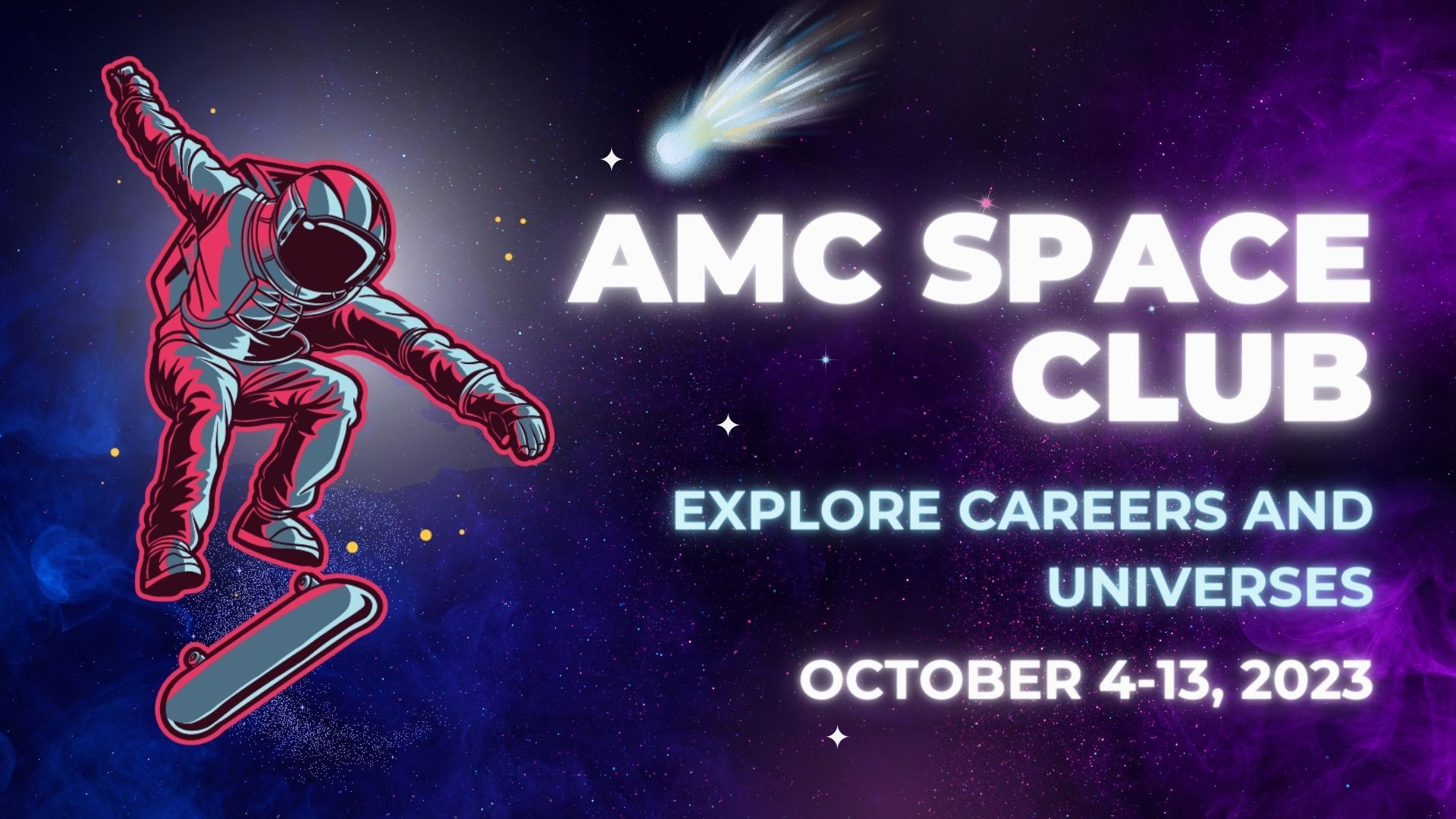 Have you ever…
Gazed up at the stars with burning curiosity?
Wondered about the vast cosmos and how you can be a part of its exploration?
Dreamed of collaborating with like-minded space enthusiasts?
Celebrate World Space Week with Us!
Join us in celebrating World Space Week from October 4-10. Our special club sessions span two enlightening weeks, immersing you in the wonders of space.
What's in Store?
Engage with industry experts, researchers, and entrepreneurs.
Seek guidance on your STEM/SPACE career path.
Draw inspiration from success stories in the space sector.
Who's it For?
Perfect for young adults aged 14 and up, as well as budding entrepreneurs with stars in their eyes.
Join the Journey!
AMC Space Club – Upcoming Events Schedule:
Join us for an inspiring lineup of space enthusiasts and experts in our upcoming speaker series!
Wednesday, October 4, 12:30 PM EST / 19:30 MSK
Speaker: Alisa Zaripova
Bio: Planetary scientist, space blogger, leader of NewSpace and Brain Time projects. Alisa is the author and leader of the NewSpace project. She is engaged in scientific activities and participates in developing a mission to Titan as a planetary geologist in the international project Conex Research. Alisa works in the development department of Education of the Future, responsible for supporting international cooperation in space and satellite engineering.
Friday, October 6, 12:30 PM EST / 19:30 MSK
Speaker: Matvey Maksimov
Bio: An undergraduate physics student majoring in photonics, Matvey serves as a research assistant at the Saint-Petersburg University crystallography laboratory. His primary passion lies in the development of innovative methods to advance solar panel technology. Matvey has a noteworthy history of participation in exhibitions for young inventors, representing Russia as part of an international team in Jakarta and Paris. Beyond his academic pursuits, he also has a strong interest in cinematography and screenwriting.
Wednesday, October 11, 12:30 PM EST / 19:30 MSK
Speaker: Daudi Dauddin
Bio: Daudi Dauddin founded a startup, "SilkInS: Innovative Materials for Regenerative Medicine," attracted investments into it, and won international scientific exhibitions with it. He became the winner of the All-Russian "Young Entrepreneur of Russia" award from Rosmolodezh Business. In 2022, Daudi launched the world's first stratospheric satellite with a mission to study bone tissue growth in stratospheric conditions. He is the recipient of more than 11 state and private scholarships for scientific and educational activities from 2021 to 2023 and has also emerged as the winner of five major All-Russian business accelerators.
Speaker: Marat Airapetian
Bio: Marat Airapetian is an aerospace engineer known for his contributions to the Hayasat-1 program, Armenia's first satellite. He completed internships at NASA, ESA, and ISRO, gaining valuable experience. Marat has also served as a flight control engineer for the AMADEE-24 Mars analog mission. His passion for space extends to science communication, where he makes complex concepts accessible to the public. In his presentation, Marat will share his journey from student life to prestigious internships, his work in international missions, and his upcoming involvement in a Martian analog mission.
Friday, October 13, 12:30 PM EST / 19:30 MSK
Speaker: Irene Vargas Salazar
Bio: Irene is a Ph.D. student at the University of Michigan, and her research interest is massive star populations. By utilizing her various skill sets, including her knowledge of astronomy, science communication, and multilingual background, she plans for her future to enable multiple communities to learn about science.
Don't miss the opportunity to engage with experts and expand your knowledge of the cosmos!
Sessions hosted by: Sofia Solanilla, AMC Volunteer and alumna of the FLARE exchange program.
***
ALL AMERICAN CENTER IN MOSCOW EVENTS ARE FREE OF CHARGE / ВСЕ МЕРОПРИЯТИЯ АМЕРИКАНСКОГО ЦЕНТРА В МОСКВЕ БЕСПЛАТНЫ
***
This session is hosted on Zoom, so if you are interested in joining, please create a Zoom account beforehand. When registering below, please submit your valid email address to receive a link to the Zoom meeting 30 minutes before the session begins.
To join other AMC Online programs, please check the American Center's TimePad calendar.
#space #STEM #Entrepreneurship