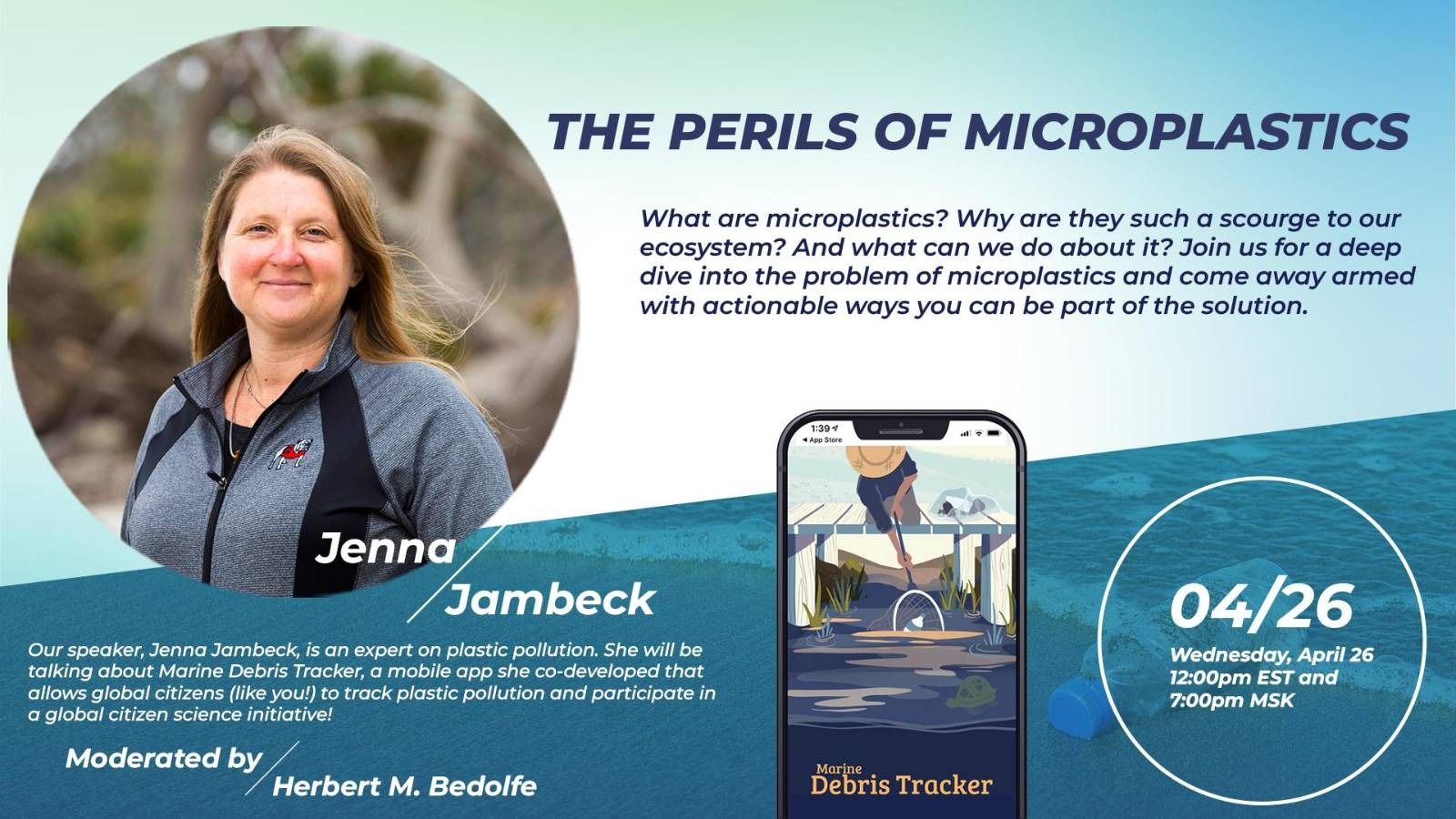 What are microplastics? Why are they such a scourge to our ecosystem? And what can we do about it? 
Join us on April 26 at 7:00 p.m. MSK for a deep dive into the problem of microplastics and come away armed with actionable ways you can be part of the solution. Our speaker, Jenna Jambeck, is an expert on plastic pollution. She will be talking about Marine Debris Tracker, a mobile app she co-developed that allows regular global citizens (like you!) to track plastic pollution and participate in a global citizen science initiative! Tune in and ask questions live!
About the guest speaker:
Jenna Jambeck is a professor with the University of Georgia's College of Engineering and has extensive expertise on plastic pollution and global waste management issues. Jambeck co-developed a mobile app, Marine Debris Tracker, a tool that allows members of the public to track plastic pollution and participate in a global citizen science initiative. With more than twenty years of experience, Jambeck has addressed the Global Ocean Commission, Our Ocean Conference, testified before the U.S. Congress, and is on the advisory panel for the UNEP Global Partnership on Marine Litter.
About the moderator:
Herbert M. Bedolfe is the Executive Director of Marisla Foundation, was one of Oceana's founders and was Chair of the Board from 2002 – 2008.  During that time, some of Oceana's victories included the protection of over 700 thousand square miles of ocean habitat from destructive trawling, the commitment of a large cruise line to stop dumping inadequately treated sewage and wastewater into the ocean, and a decision by the European Union to shut down illegal driftnetters.
***
ALL AMERICAN CENTER IN MOSCOW EVENTS ARE FREE OF CHARGE / ВСЕ МЕРОПРИЯТИЯ АМЕРИКАНСКОГО ЦЕНТРА В МОСКВЕ БЕСПЛАТНЫ
***
This event will be livestreamed on the American Center in Moscow's YouTube channel, VK group, and Telegram channel.
To receive an email reminder 30 minutes before the online event begins, register below and leave a valid email address.
To join other AMC Online programs, please check the American Center's website and TimePad calendars.