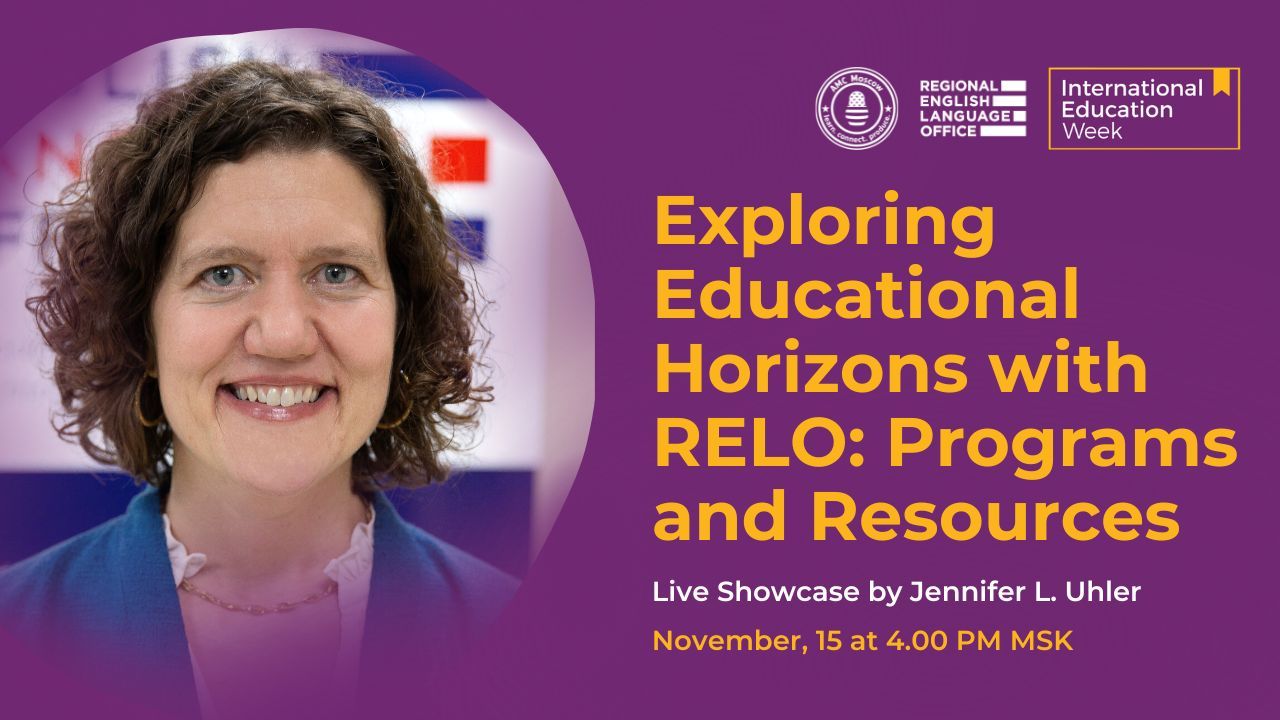 The American Center in Moscow invites you to this unique event with the Regional English Language Office (RELO) on Wednesday, November 15th at 16:00 Moscow time!
It's International Education Week (IEW), the perfect time to let you know about all the free programs, classes, clubs, workshops, resources, and events available to you through the Regional English Language Office (RELO Moscow)! Opportunities to become more proficient at learning (and teaching) English abound and you'll learn all about them at this informative, free event. Bring your curiosity, your questions, and your enthusiasm! If you can't join the live session, don't worry: you can tune in later to watch the recording!
About the Presenter
Jennifer Uhler is the Regional English Language Officer (RELO) based Tallinn and works with the US Embassy and Consulate in Poland to support Public Diplomacy programs that promote quality English language teaching and learning. She previously served as a RELO in Brazil, Washington, DC, Indonesia and East Timor, and Central Asia. Prior to joining the US Department of State, Jennifer taught in various US and international settings as a teacher and teacher educator, including as an English Language Fellow (Estonia), a Fulbright English Teaching Assistant (Romania), and a Peace Corps Volunteer (Slovakia ). She holds degrees in TESOL and Language Program Administration from the Middlebury Institute of International Studies in Monterey. Her professional interests include teacher learning, content-based instruction, and language policy. She grew up in Wyoming and still considers the wild, open skies of the West her true home in the United States. 
***
ALL AMERICAN CENTER IN MOSCOW EVENTS ARE FREE OF CHARGE / ALL EVENTS OF THE AMERICAN CENTER IN MOSCOW ARE FREE OF CHARGE
***
To watch this event live, tune in to the American Center in Moscow's YouTube channel and VK page . You can also watch the recording of this event on the same platforms after the event's end.
You can register below and leave your valid email address to receive a reminder 30 minutes before the online event begins.
To join other AMC Online programs, please check the American Center's website and TimePad calendars.