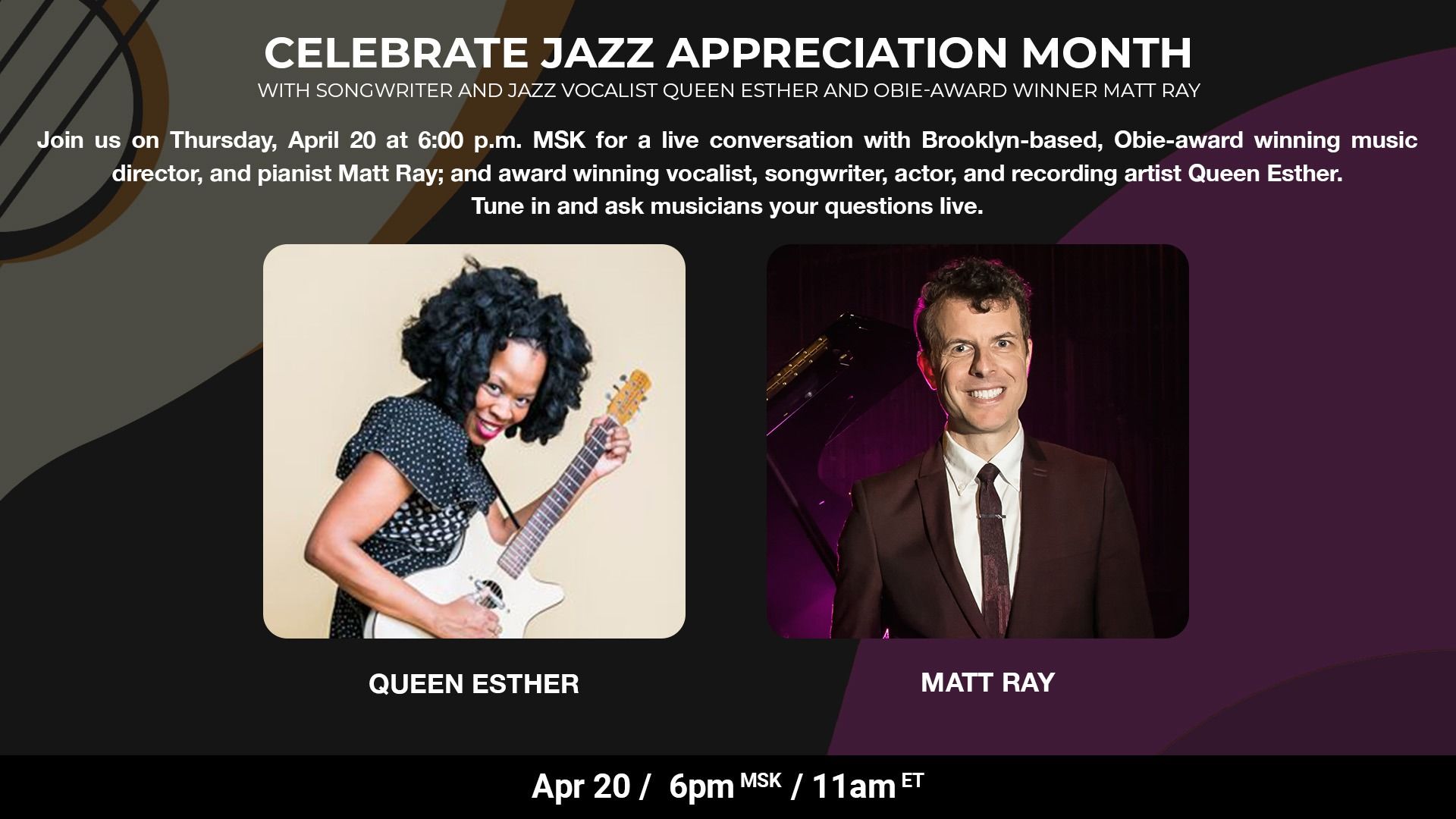 Join us for a live conversation with Brooklyn-based Obie-award winning pianist and songwriter Matt Ray and award-winning vocalist, songwriter, actor, and recording artist Queen Esther to learn about her special blend of jazz, blues, and soul music, described as "Black Americana," and the pivotal role jazz has played in their lives. Tune in on April 20 at 6:00 p.m. MSK to ask your questions live.
This event is part of AMC's celebration of Jazz Appreciation Month, a music festival held every April to honor one of America's earliest and iconic art forms. 
About the musicians:
Queen Esther — Solo Performer. Vocalist. Topliner. Writer. Musician. Songwriter. Playwright. Librettist. Actor. TED Speaker.
Described as "…the unknown queen of Americana…" (Feedback, Norway), "..a Black Lucinda Williams…" and a "…brutal, original, explosive singer…"  (Vanity Fair, Spain), Queen Esther's creative output musically is the culmination of several critical Southern elements, not the least of which are years of recording and touring internationally as frontwoman for several projects with her mentor, harmolodic guitar icon James "Blood" Ulmer, including a stint in his seminal band Odyssey.  Raised in Atlanta, GA and embedded in Charleston, SC's Lowcountry – a region with African traditions and Black folkways that span centuries and constantly inform her work –  Queen Esther uses her Southern roots as a touchstone to explore cultural mores in America, deconstructing well-worn historical narratives while creating a reclamation-driven soundscape.  
A member of SAG/AFTRA, Actors Equity, Dramatists Guild and the Recording Academy, her work as a vocalist, lyricist, songwriter, actor, solo performer, playwright and librettist has led to creative collaborations in neo-vaudeville, alt-theater, various alt-rock configurations, (neo) swing bands, trip-hop DJs, spoken word performances, jazz combos, jam bands, various blues configurations, original Off-Broadway plays and musicals, experimental music/art noise and performance art.  
Queen Esther's most recent work includes a performance with her western swing collective The Black Rose of Texas at Lincoln Center's 2022 Summer for the City that included a workshop at Jazz at Lincoln Center, and a grant from The 2022 New York City Women's Fund for Media, Music and Theater for Blackbirding, an alt-country album she's currently recording – written during an all media artist residency at Gettysburg National Military Park. A proud member of Actor's Equity, SAG/AFTRA, The Dramatists Guild and The Recording Academy, her critically acclaimed 2021 Black Americana album Gild The Black Lily is the fourth release on her imprint EL Recordings – and her 2018 TED Talk about the true origins of country and bluegrass continues to reverberate throughout the Americana community.  
Coming in 2023: Rona, an EP of rangy alt-Americana songs written in Harlem during the early months of the pandemic lockdown and Things Are Looking Up, a jazz album of original songs and Lady Day's lost classics.
Matt Ray is a Brooklyn-based pianist, composer, arranger, singer, songwriter, and music director. His arrangements have been called "wizardly" (Time Out NY) and "ingenious" (NY Times), and his piano playing referred to as "classic, well-oiled swing" (NY Times) and "to cry for" (Ebony). For his work on Taylor Mac's show A 24-Decade History of Popular Music he and Mac shared the 2017 Kennedy Prize for Drama Inspired By American History. Notable live performances include Carnegie Hall with Kat Edmonson, the Hollywood Bowl with reggae legend Burning Spear, the Théâtre de Chaillot with Justin Vivian Bond, and touring the Caribbean and Central America as a US Department of State Jazz Ambassador. His show Matt Ray Plays Hoagy Carmichael featuring Kat Edmonson premiered at Lincoln Center's American Songbook series in 2018. Other work includes music directing Queen Esther's The Billie Holiday Project at the Apollo Theater's Music Café (2012), music directing Taylor Mac's Obie award winning play The Lily's Revenge at the HERE Arts Center (2009), and co-writing songs for and performing in Bridget Everett's one-hour Comedy Central special Gynecological Wonder (2015) as well as Everett's hit show Rock Bottom (2014). Matt has done musical arrangements for a large number of TV shows and films including Nurse Jackie (2014), Blue Night (2018), and the Oscar nominated Can You Ever Forgive Me? (2018).
***
ALL AMERICAN CENTER IN MOSCOW EVENTS ARE FREE OF CHARGE / ВСЕ МЕРОПРИЯТИЯ АМЕРИКАНСКОГО ЦЕНТРА В МОСКВЕ БЕСПЛАТНЫ
***
This event will be livestreamed on the American Center in Moscow's YouTube channel, VK group, and Telegram channel.
To receive an email reminder 30 minutes before the online event begins, register below and leave a valid email address.
To join other AMC Online programs, please check the American Center's website and TimePad calendars.