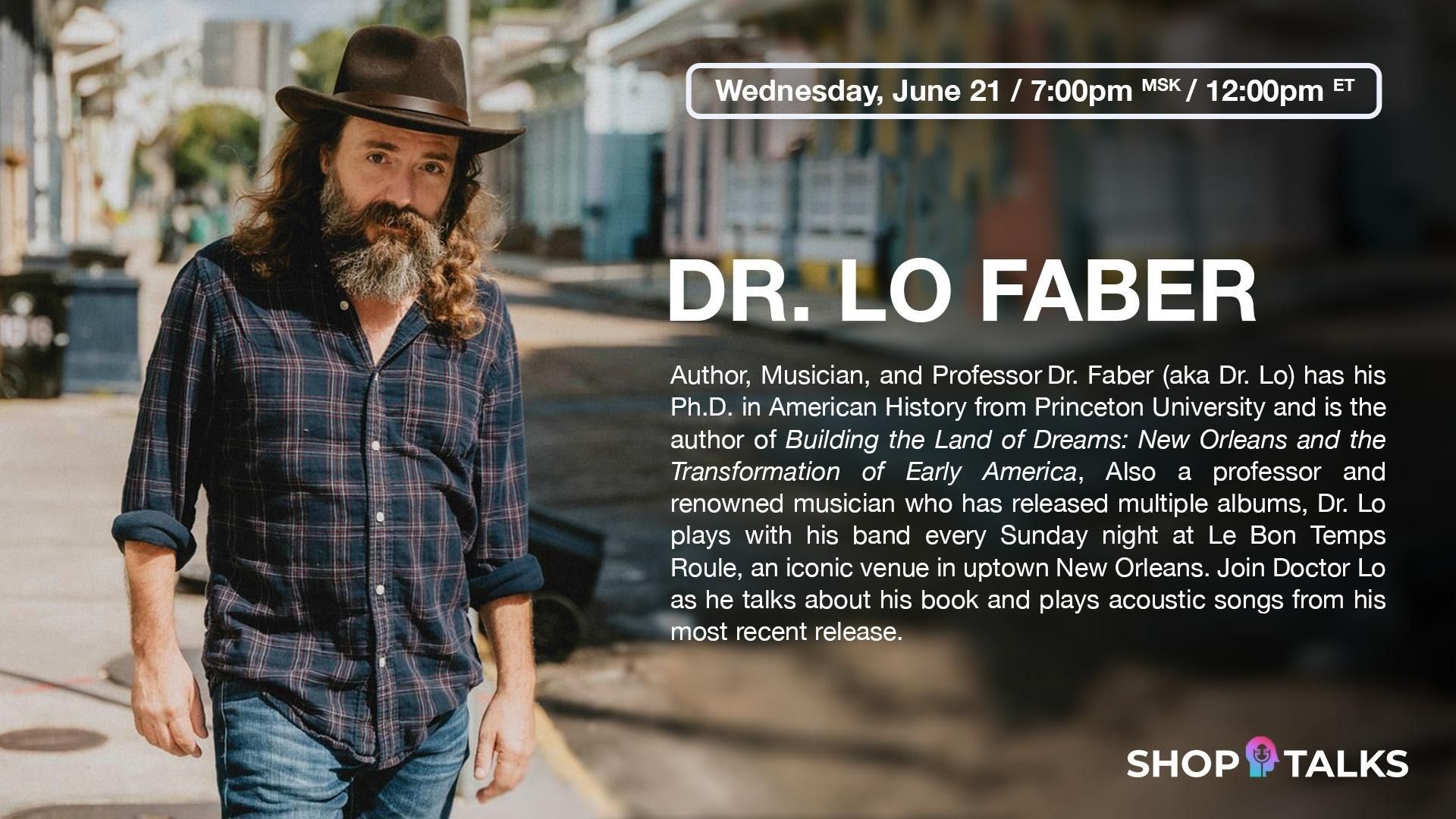 Dr. Faber (or Doctor Lo, as he's known in the music world) has his Ph. D. in early 19th-century American History from Princeton University, is a former history professor, published a book about New Orleans entitled Building the Land of Dreams, has released multiple solo and band albums, and plays with his current band every Sunday night at Le Bon Temps Roule, an iconic venue in uptown New Orleans. Please join Doctor Lo on Wednesday, June 21 at 7:00 p.m. MSK as he talks about his book, the rich heritage of New Orleans, and plays acoustic songs from his most recent release. The presentation will be followed by a Q&A session. Tune in and ask Doctor Lo your questions live! 
About the guest speaker:
Dr. Lo Faber is a singer, songwriter, and multi-instrumentalist based in New Orleans. He has been writing, performing, and recording for over thirty years. Faber formed God Street Wine in New York in the late 1980s and led the band for 12 years of nonstop touring and recording. After GSW broke up in 2000 he produced the rock operas Henry's House and Friday Night Freakshow. After earning a PhD from Princeton University and spending several years teaching at Loyola University New Orleans, Doctor Lo returned to a full time music career in 2019.
***
ALL AMERICAN CENTER IN MOSCOW EVENTS ARE FREE OF CHARGE / ВСЕ МЕРОПРИЯТИЯ АМЕРИКАНСКОГО ЦЕНТРА В МОСКВЕ БЕСПЛАТНЫ
***
This event will be livestreamed on the American Center in Moscow's YouTube channel, VK group, and Telegram channel.
To receive an email reminder 30 minutes before the online event begins, register below and leave a valid email address.
To join other AMC Online programs, please check the American Center's website and TimePad calendars.