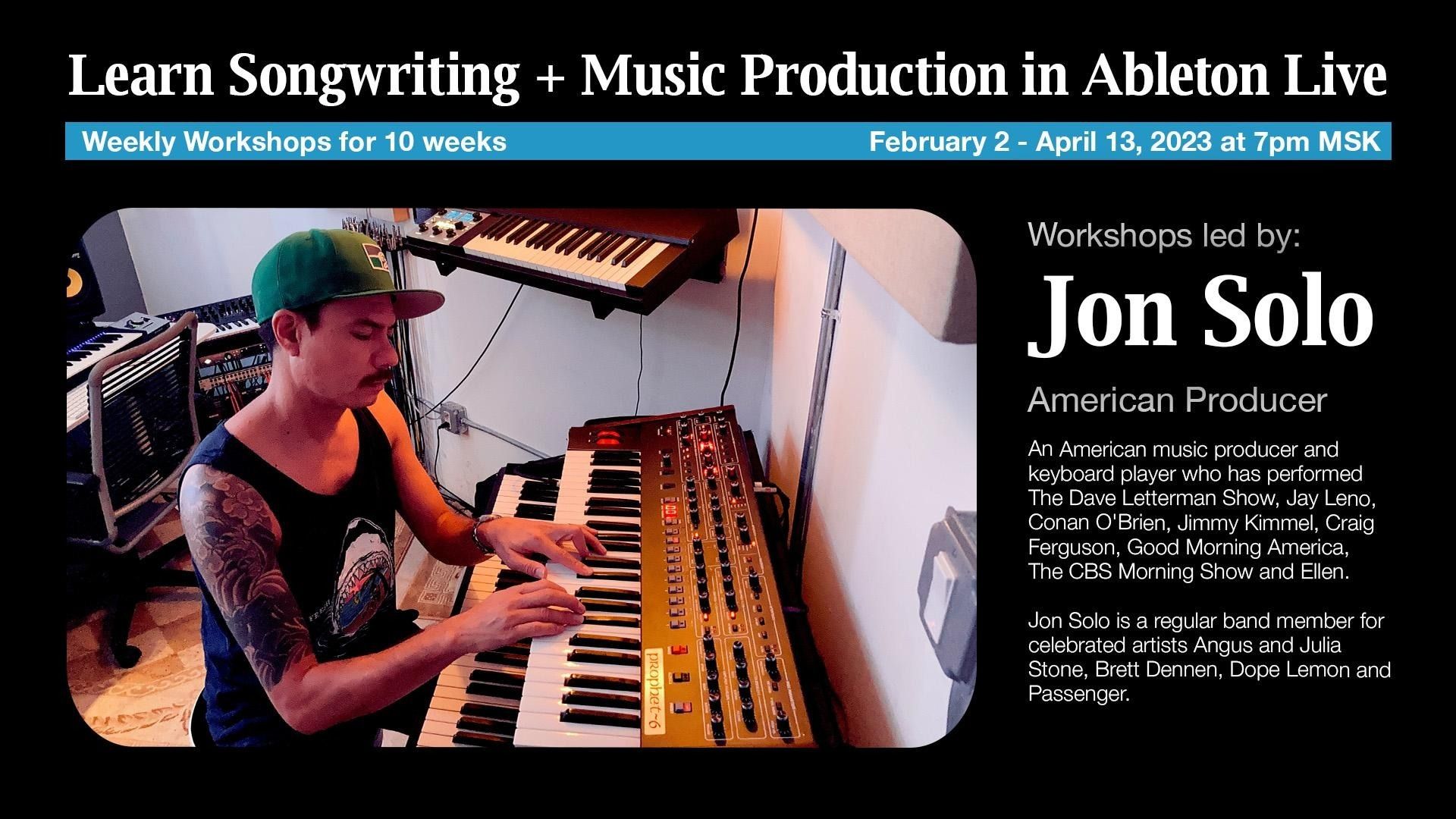 Songwriting and Music Production Workshop Series is a free 10-part virtual workshop series that will train participants how to write, record, and mix a song in production and performance program Ableton, including the fundamentals of how sound interacts inside of a DAW (Digital Audio Workstation). It will will emphasize technical aspects such as EQ, compression, effects, and sample usage, including artistic value to songwriting. Open to all musicians or anyone interested to learn how to use Ableton Live for songwriting and music production, this workshop series will run weekly between February 2, 2023, and April 13, 2023.
Songwriting and Music Production Workshop Series will help you understand basic musical theory, methods of EQ, compression, and effects, and the importance of sound choices for a good production. It will also equip you with the practical skills of how to use Ableton Live to set up a session to begin the songwriting process, to make a drum beat, to record a vocal into Ableton Live, and to mix the final product. Additionally, you will have an opportunity to collaborate with other participants to see your song as a final product.
Requirements:
These workshops are ideal for musicians, singers, and songwriters, but they are open to anyone interested in learning how to write and record a song in Ableton Live.
The workshops will be conducted in English, so participants are expected to have at least an Intermediate / B1 level of English.
Required technology:
Computer MAC or PC with Zoom

Ableton 11, or Ableton Lite (Free)

Microphone with cable. 

A Digital Audio Interface, not necessary but would be ideal.
Schedule and outline of workshops:
The workshop series consists of 10 weekly 2-hour sessions at 7:00-9:00 p.m. MSK held on Zoom between February 2, 2023, and April 13, 2023. Participation is free. Sign up for each of some of the sessions by selecting their dates below and filling out the registration form.
#1 on February 2: Opening up Ableton Live, setting up a session. Creating templates, understanding the workflow. Talk basic outlines of how songs work, verse, chorus, bridge, etc. 
#2 on February 7: Write a simple song using 2 chords with the piano/rhodes patch, or any other instrument.  
#3 on February 16: Add a beat and bass line to the simple 2 chord song. Prepare for melody and lyrics.
#4 on March 2: Add a vocal or lead melody. 
#5 on March 7: Discuss "groups" in Ableton.  DRUMS, BASS, INSTRUMENTS, VOCALS, etc.  How all the groups feed to the master bus. Possibly discuss compression and limiting on the master bus.
#6 on March 16: Add effects to the vocals, reverbs, delay, etc. Discuss widening of instruments using delay, etc.
#7 on March 23: Add a bridge to the song.
#8 on March 30: Start mixing. Gain structure, EQ, Compression, etc. 
#9 on April 6: Finishing touches on the song, drops, delays, etc.
#10 on April 13: Mastering the song, discuss delivery LUFS to streaming platforms. True peak, etc.  
About the facilitator: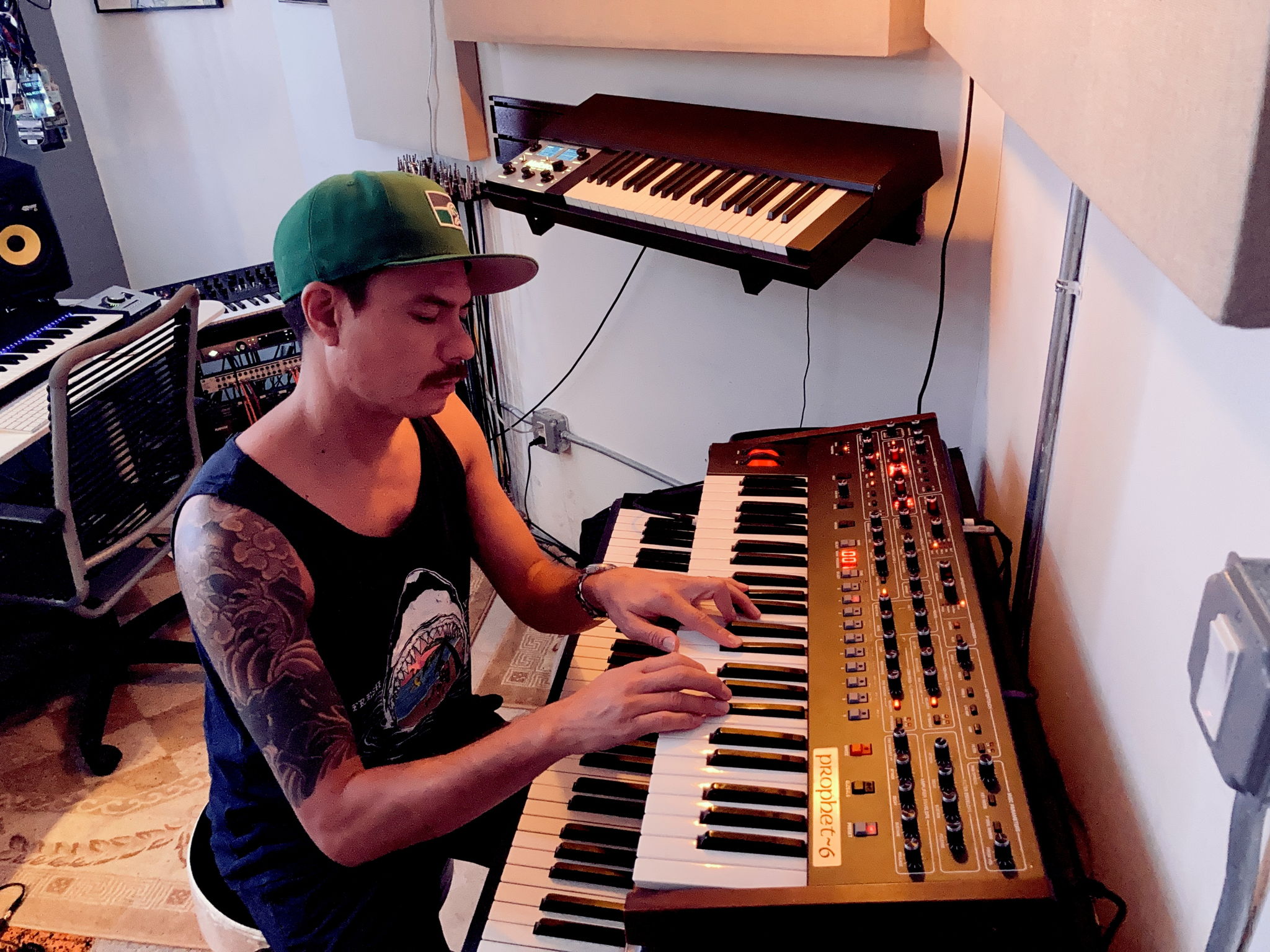 Jon Solo began playing the piano at four years old. In his youth he went on to become a top ten finalist in The International Young Keyboard Artist Competition, and a regular cast member of the television show Music Magic, which was regionally broadcast and filmed in Seattle.
Solo was awarded a scholarship from Cornish College of the Arts where he earned his Bachelor of Music in Jazz Piano. He moved to New York and began cutting his teeth playing in renowned Jazz Clubs throughout the city. In the last 11 years he's been a regular band member for Angus and Julia Stone, Brett Dennen, Passenger, and Dope Lemon, playing sold out world tours and major music festivals, such as Coachella, Bonnaroo, Governor's Ball, Outside Lands, Hang Out Festival, Austin City Limits, Bumbershoot, Osheaga Festival (Canada), Rock Werchter (Belgium), Pink Pop (Netherlands), Hurricane Festival (Germany), Montreaux Jazz Festival (Switzerland) Falls Festival (Australia), and many others.
Other career highlights include national television performances on The Dave Letterman Show, Jay Leno, Conan O'Brien, Jimmy Kimmel, Craig Ferguson, Good Morning America, the CBS Morning Show, and Ellen.
Notable recording credits include Angus and Julia Stone's self-titled album released in 2014, produced by Rick Rubin which went Platinum in France, and Gold in Australia. Brett Dennen's Por Favor, produced by Dave Cobb, released by Elektra Records, #1 in the iTunes singer-songwriter category. Passenger's Young as the Morning Old as the Sea, #1 in the UK, Australia, New Zealand, and Switzerland, released in September 2016, The Boy Who Cried Wolf, released in August 2017, and Runaway, released in 2018. Recently he recorded with DOPE LEMON.
In 2017, Jon Solo created Naneum, an ambient-piano based project. Since then, he's released four full length albums and one EP. He was recently featured on NPR's regularly broadcasted show, Echoes with John Diliberto, playing a live concert and interview. In 2018 he performed at the Montreux Jazz Festival in Switzerland and licensed a song to Apple, which is on the iOS in the photo memories section. His latest release in 2022, Autumn was #1 on the NACC Chill charts.
Solo was brought onto the Artist Relations team by Randy Fuchs in 2014 and is a Nord Keyboard, Warm Audio and Sequential artist.
***
ALL AMERICAN CENTER IN MOSCOW EVENTS ARE FREE OF CHARGE / ВСЕ МЕРОПРИЯТИЯ АМЕРИКАНСКОГО ЦЕНТРА В МОСКВЕ БЕСПЛАТНЫ
***
These workshops are hosted on Zoom, so if you are interested in joining, please create a Zoom account beforehand. When registering below, please submit your valid email address to receive a link to the Zoom meeting 30 minutes before a workshop begins.
To join other AMC Online programs, please check the American Center's website and TimePad calendar.