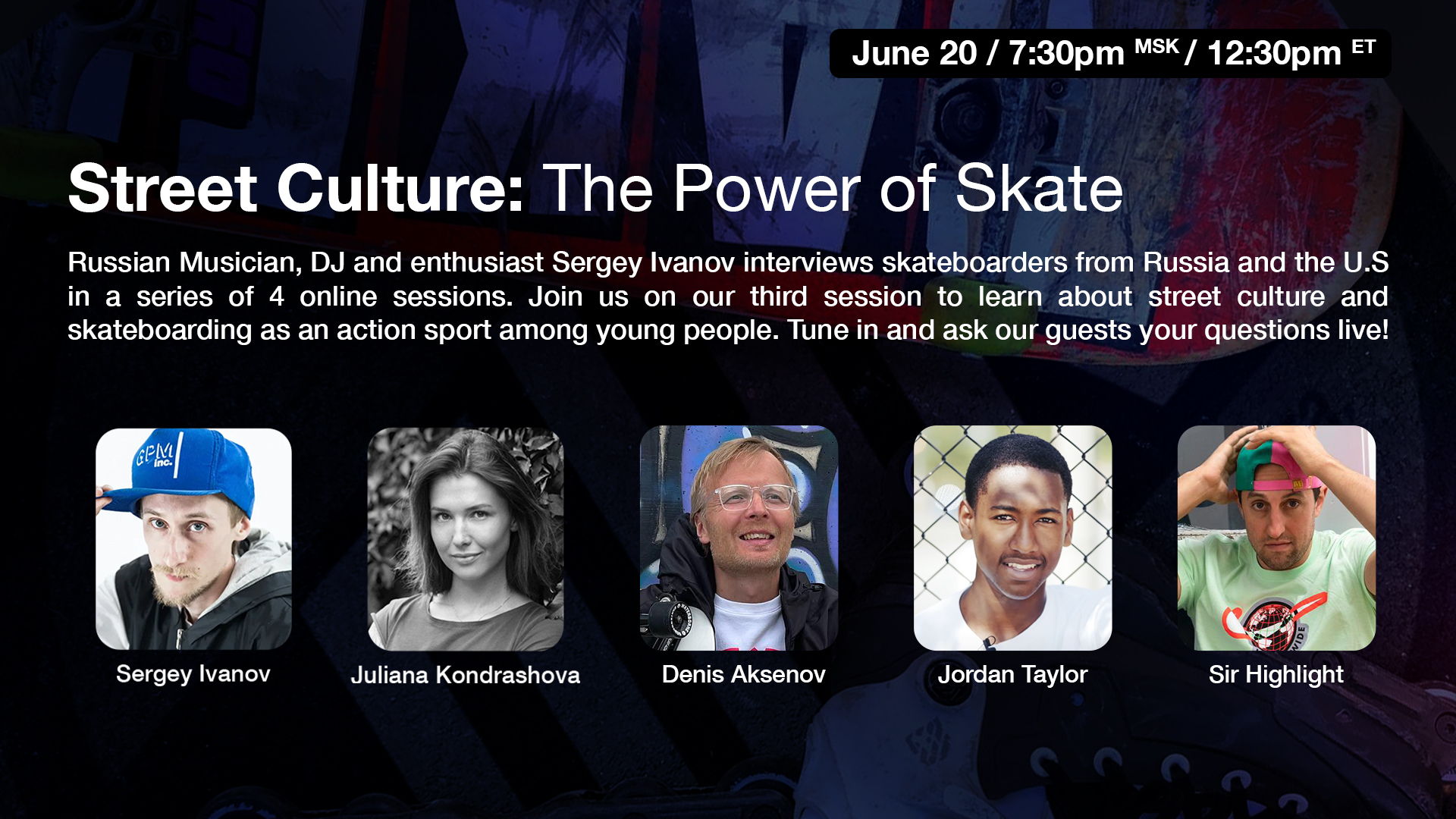 First invented in the 1950s in California skateboarding now can be found anywhere around the world. Skateboarding is a youth subculture that emphasizes the importance of self-expression and taking risks. Considered one of the top 10 sports today, this unique sport is increasingly popular, despite its reputation as an outcast or rejected sport. Skateboard culture values individuality, creativity, and freedom. Skaters are known for their unrelenting dedication to progressing the sport holistically. The community is built on mutual respect; instead of one-upping each other, skaters often encourage their peers and embrace their differences.
We invite you to find out about the history and current state of skateboarding, about international skateboarding cultures and their manifestations in big cities and small villages. Join the American Center Moscow's Street Culture: The Power of Skate Series of live conversations and don't miss a unique opportunity to share your thoughts on the development of not only skateboarding but also the entire street culture and movement. We'll talk about skateboarding, about old-school and new styles, and approaches, to understand what was then and what is happening now.
Going live every Tuesday evening in June 2023, this online series features Russian musician and DJ Sergey Ivanov in deep and engaging conversations with members of the international community of skateboarders, who compare skateboarding in their communities and cultures and discuss the effect of it on youth empowerment and sports. Tune in live on the American Center in Moscow's YouTube channel, VK group, and Telegram channel to enjoy the conversations and to ask the artists questions!
Please join our guest speakers on June 20 at 7:30 p.m. MSK to learn about street culture and skateboarding and ask your questions live!
***
Speakers:
Juliana Kondrashova is a journalist, DJ and social and cultural figure. Juliana's school years were spent in the South of Moscow: there she managed to try on various sports disciplines (basketball, volleyball, running, etc.) as an amateur and professional and absorb the spirit of the national action culture. In recent years, she has worked with teams such as XSA and Social Skate School.
Denis Aksenov has been an AMC programming volunteer since 2018. He is a long-running host of reading, creative writing, and drama workshops at AMC (American Dramedy Club, Flash Fiction), currently hosting a monthly Short Story Reading Club, where participants read and analyze contemporary American short fiction. Outside of his volunteering, Denis is a history and art history major at the University of Massachusetts and runs Flywood, a skateboard store and a skateboard-making workshop/school.
Jordan Taylor –  My name's JT, I was originally born in Boston, Massachusetts and moved to D.C. when I was 8 years old. I started skateboarding a few years later after seeing the X Games on TV and asking for a skateboard for Christmas. Once I started skating, I fell in love with the sport and have been doing it almost everyday ever since. I started JT Skate School after a couple years of me teaching skate lessons and actually falling in love with the aspect of teaching skateboarding. I saw a part of me when I first started skating in everyone I worked with and that helped push each skater to reach their full potential. I also work and ride for Crushed Skate Shop, which is black-owned and also the only skateboard shop in Washington, D.C. We opened up shop right before the pandemic in 2020 and it has been quite the journey. We've been going strong since then and were blessed with a Nike SB collab that released in October of 2022. I'm also a part of CubaSkate, which is a non-profit organization based in LA, D.C. and Havana, Cuba. Our goal is to support the evolution of skateboarding in Cuba, build local communities and international connections, and cultivate youth through the sport. Very grateful for skateboarding and all the people it has connected me with and the rooms and places it has taken me to. 
Sir HIghlight – Hip hop and skating have a lot in common when it comes to their culture. Both cultures are very inclusive of all human beings. The important thing is to dedicate time to becoming a better performer; whether in the hip-hop scene or the skating scene. Personally, I do not do a lot of tricks on my skateboard; it's more of a vehicle to get from A to B, but I've always had very high respect for people who can do kickflips, ride rails, and all that other cool skateboarding stuff. Most importantly, whenever I've met a skater, whether they listened to Hip Hop, Punk, Heavy Metal or any other genre of music, they have always been welcoming to me.
About the moderator:
Sergey Ivanov is a Chief executive of Noosphere NGO, musician, DJ, poet, independent researcher. Participant and winner of the numerous music festivals and challenges (from Jazz to poetry and hip hop). Organizer of the events related to street culture and Hip Hop: festivals, conferences, jams, masterclasses, theater plays, and social activities. In 2012 Sergey got Ph.D. in Cultural studies at the State Pedagogical University, with the dissertation about Russian Hip Hop culture. He was also a Moscow skate rider in 2000-2009.
***
ALL AMERICAN CENTER IN MOSCOW EVENTS ARE FREE OF CHARGE / ВСЕ МЕРОПРИЯТИЯ АМЕРИКАНСКОГО ЦЕНТРА В МОСКВЕ БЕСПЛАТНЫ
***
This event will be livestreamed on the American Center in Moscow's YouTube channel, VK group, and Telegram channel.
To receive an email reminder 30 minutes before the online event begins, register below and leave a valid email address.
To join other AMC Online programs, please check the American Center's website and TimePad calendars.