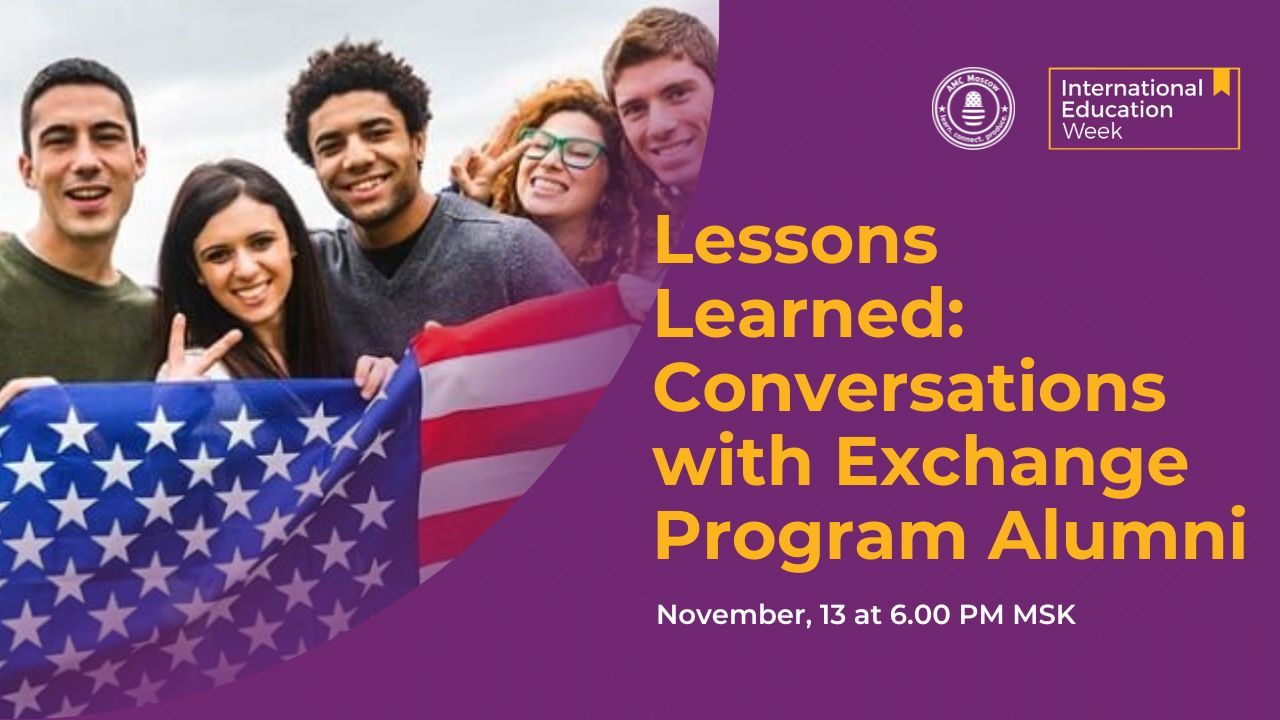 In commemoration of International Education Week, The American Center in Moscow invites you to this exciting event with Exchange Program Alumni on  Friday, November 17th at 16:00 Moscow time!
If you've ever wondered what it might be like to participate in a cultural exchange program, this event is for you! Bring your curiosity and join us for an informative conversation with four exchange program alumni—Russian Business Leader (RBL) program alumni Ekaterina Shipunova and Vladimir Kiselev, Fulbright alumnus Nikolai Rubanovskii, and Year of Exchange in America for Russians (YEAR) program alumna Polina Ilicheva .
Sample questions/prompts for discussion include:
Why did you choose to participate in an exchange to the USA?

Tell us about your experiences with research, internships, and practical training opportunities.

What were your first impressions of the US? How did you overcome culture shock and embrace American traditions?

How did you interact with local communities?

Tell us about how you've been able to apply lessons learned in the US to your career and life in Russia.

How did your US exchange experience impact your personal and professional development?
About the Alumni:
Ekaterina Shipunova , an RBL 2021 program alumna, is an entrepreneur in the field of additional online education and a freelance marketer specializing in promoting a personal brand on social networks. She creates communications strategies for clients and teaches experts in different niches how to sell their services through social networks. She works with famous bloggers (for example, she launched online products with Marina Mogilko, a brand with 16+ million subscribers around the world). 
– Social networks:  Telegram channel ,  YouTube
Vladimir Kiselev, a digital marketer from Novosibirsk, Siberia, is a traffic, content marketing, and analytics expert. Over his varied career, Vladimir has helmed a digital marketing agency, advised local and federal businesses in Russia in fields including online education, e-commerce, and fast-moving consumer goods (FMCG), worked with bloggers including Marina Mogilko (Silicon Valley Girl) and Alexandra Mitroshina, managed several social media marketing programs, and worked as a Social Media Marketer for BJD Leadership Training & Team Development as a part of Russian Business Leaders Program (where he's still represented as a part of their international team).
– Social media: Telegram, LinkedIn
Nikolai Rubanovskii, an alumnus of the Fulbright Program, is a Dubai-based communications and public relations professional who has worked with large multinational corporations including Meta, Visa, Ford, Goodyear, Coca-Cola, and many others. Nikolai benefited from a six-month paid traineeship at the European Union Delegation to Russia and has previously worked in the non-governmental sector leading communication strategy for one of Russia's oldest and largest charity organizations. He has also been a freelance researcher for several UN and UNICEF projects and has worked with the Office for Democratic Institutions and Human Rights (ODIHR) to develop multimedia materials for an online course targeted at CIS-based human rights defenders. Nikolai has a Master's Degree in Communication for Development from Ohio University.
Polina Ilicheva, a recent YEAR Program alumna, spent her exchange year at Southeast Missouri State University in Cape Girardeau, Missouri, as a financial management major. The YEAR Program enriched her future career by providing her with an invaluable understanding of different cultures, improved communication skills, and a deepened insight into financial markets. Currently she lives in Lisbon, Portugal, exploring new work opportunities worldwide as a product manager in the tech industry. 
About the Moderator:   As an alumnus of the Russian Youth Environmental Program (RYEP) and the Year of Exchange in America for Russians (YEAR) program, Alexander Pachkov has a wealth of experience in cultural exchange, which makes him the perfect moderator for this event ! Deeply rooted in the world of international education and public diplomacy, Alex boasts a distinguished career marked by a unique blend of technical, analytical, and diplomatic skills—a distinctive skill set he acquired and honored at companies ranging from business startups to IBM. Alex is a summa cum laude graduate of the prestigious Vaclav Havel Erasmus Mundus Joint Masters Degree in European Politics and Society and earned his bachelor's degree from Lomonosov Moscow State University. He enjoys traveling around Europe, having visited more than 30 countries and 20 states in the US
***
ALL AMERICAN CENTER IN MOSCOW EVENTS ARE FREE OF CHARGE / ALL EVENTS OF THE AMERICAN CENTER IN MOSCOW ARE FREE OF CHARGE
***
To watch this event live, tune in to the American Center in Moscow's YouTube channel and VK page . You can also watch the recording of this event on the same platforms after the event's end.
You can register below and leave your valid email address to receive a reminder 30 minutes before the online event begins.
To join other AMC Online programs, please check the American Center's website and TimePad calendars.