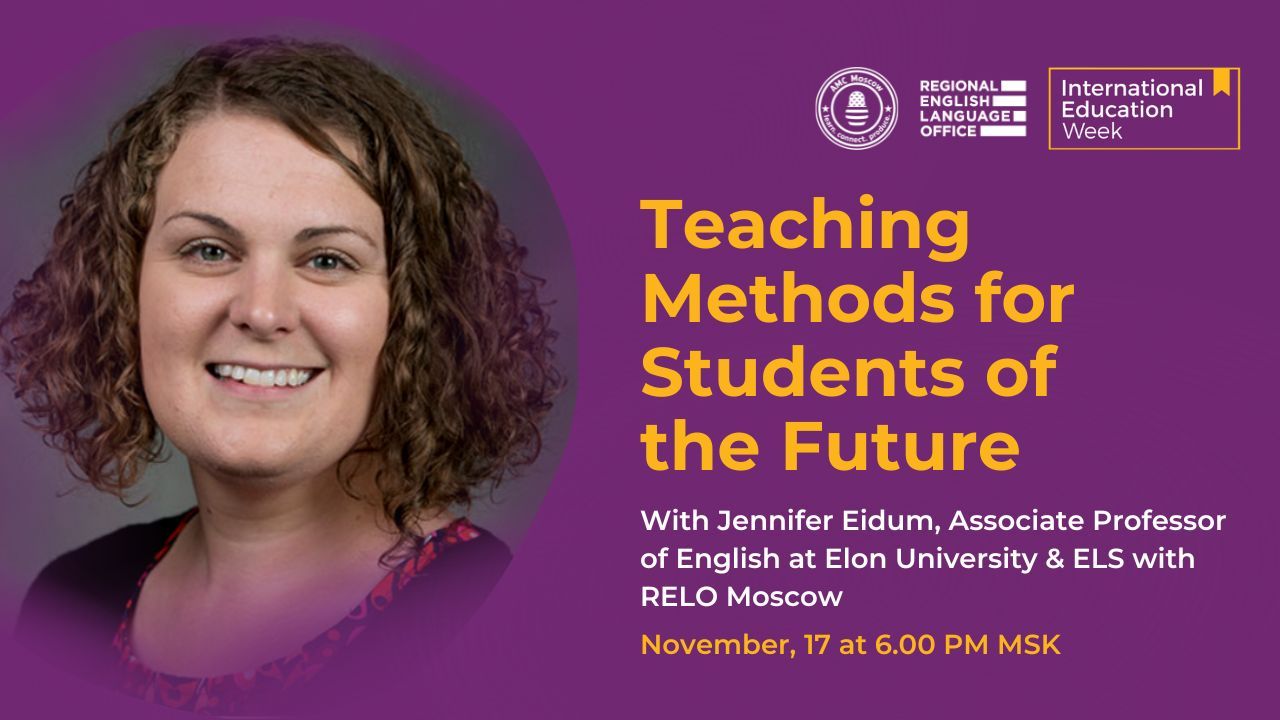 The American Center in Moscow invites English language teachers, students, and enthusiasts from around Russia to come together and celebrate IEW in a unique free online event with English Language Specialist Jennifer E. Eidum on  ​​​​​​Friday, November 17th at 18 :00 Moscow time!
About the Presenter
Jennifer E. Eidum has a PhD in English Language and Rhetoric, an MA in TESOL from the University of Washington-Seattle, and a BA in Politics and Government from the University of Puget Sound. In her 25 TESOL career, Jennifer served as a Peace Corps TEFL Volunteer in Ukraine, taught intensive and academic English at the University of Washington, Seattle, and now teaches future English language teachers at Elon University. You can find her teaching courses on applied linguistics (eg TESOL, sociolinguistics), writing studies (eg English 1100, writing civic action), and core curriculum courses such as her capstone on global hip-hop. Her research interests include inclusive teaching, engaged learning techniques, and pedagogies that support reflection and metacognition. Jennifer currently serves as the director of Elon's Peace Corps Prep program and previously served for six years as the Faculty Director of Global Neighborhood, living on campus with her family alongside Elon undergraduate students. Her experiences collaboratively leading the Global Neighborhood led to her co-edited book, The Faculty Factor: Developing Faculty Engagement with Living-Learning Communities (2023). Jennifer grew up in Montana and has lived in several cities abroad, including Aberystwyth, Wales, UK, Pervomais'k, Ukraine, and Budapest, Hungary.
***
ALL AMERICAN CENTER IN MOSCOW EVENTS ARE FREE OF CHARGE / ALL EVENTS OF THE AMERICAN CENTER IN MOSCOW ARE FREE OF CHARGE
***
To watch this event live, tune in to the American Center in Moscow's YouTube channel and VK page . You can also watch the recording of this event on the same platforms after the event's end.
You can register below and leave your valid email address to receive a reminder 30 minutes before the online event begins.
To join other AMC Online programs, please check the American Center's website and TimePad calendars.