We are a virtual community of learners and leaders, makers, ideators, and dreamers. Join us! We can't wait to meet you!
Hello! We're glad you're here!
We may be old in "internet years"—our first website came online in 1998!—but we're very young at heart. And we know a thing or two about providing free resources and opportunities for Russians who want to communicate better in English, study in the U.S., learn more about American history and culture, and participate in exchange programs that enhance their skills.
We spend our days thinking of ways to help Russian English learners become more adept at sharing their thoughts and ideas with other English speakers. We enjoy connecting educators with professional development opportunities. And we especially love providing opportunities and support for people with big ideas. We also love scouring the internet for exchange programs that give Russians an opportunity to broaden their horizons  in the U.S., connect with like-minded learners and leaders across Russia and in the U.S., and then bring what they've learned back to their own communities.
English learners, English language teachers, entrepreneurs (whether you have already started a business or just have a great business idea and a goal to pursue it), anyone interested in US history and culture, those looking to make connections with subject matter experts or a place to find support for community-enhancing ideas and initiatives …
It is our hope that you find a sense of community here. That you feel safe to share your knowledge and your ideas. That you get involved in a club, explore our archives for things that interest you, and embark on a journey that challenges you and changes you. There is a place for everyone here. And that includes you!
We open our doors!
The American Center in Moscow (the first of its kind in Russia!) opens its doors to much fanfare. The Center's mission—to be a source of accurate and timely information about the U.S. and serve as a platform for cultural dialog—is still our goal and our guiding light today.
We moved to a bigger home!
We moved from Margarita Rudomino All-Russia State Library for Foreign Literature to a new welcoming space at the American Embassy on Novinsky Bulvar, 21. Despite a new location, our volunteer game continues to be strong as many young people and seasoned professionals from Russia and abroad join our community to share their expertise, knowledge, and passion with our audience through events that they host.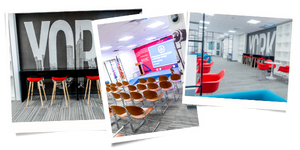 We boast an impressive list of speakers!
After a year in our new space, our list of guest speakers, which includes astronauts, NASA directors, and Hollywood actors, is starting to become impressive! Today, we continue to host events where you can meet high level speakers, including Pulitzer Prize winning writers, Grammy award-winning musicians, architects, and more!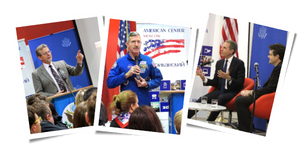 We change our clothes!
We conducted a logo design contest and close to 80 amazing artists submitted their ideas. The winning submission depicts Russia's signature matryoshka in the colors of the U.S. flag.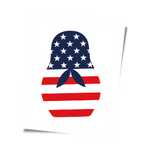 Our 25th anniversary
We celebrated our 25th anniversary in a new space! Our bigger home allowed us to create dedicated areas like the AMC Media Lab, a great resource for anyone who wanted to develop better media literacy skills in this information-driven age. Today, via our virtual platform, we continue to provide resources and host events that can help you hone your ability to detect bias in the media.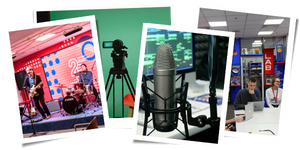 We hosted our first Makeathon!
Our first creative marathon brought participants and experienced professionals from different STEM fields together to design a chat bot. Since then, we've hosted six Makeathons, all focusing on finding better tech solutions to a wide range of social and environmental issues.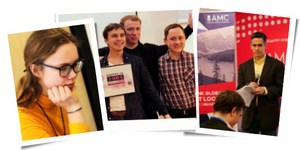 The only way to serve a community is to be a community. Over the years, our speakers, partners, volunteers, and interns have created an energetic, versatile, and international community that is passionate about our mission to build bridges between Russia and the U.S. 
The only thing missing is you! Will you join us?
Frequently Asked Questions